CD ROM Titles You Need to Check Out
For a reference of the top ten CD ROM titles, the list below provides an overview-
Street Atlas USA 2.0. The latest version of this CD ROM that brings you the street maps of the US down to almost to three dimensional viewing.
Numbers, river lines and such like. For running it requires window 3.1and puts 2.2MB of data on your hard drive.
Library and feature, which is in its second edition (World Library, 714-748-7197, $299).It has over 2000 individual books , plays , poems , historical works, scientific works.
Find William Shakespeare, Jack London, Aristotle. This is a gem is quiet literally a true treasure trove.
World Atlas 4.0 for basic world maps and statistical and demographic information (The Software Tool works, 415-883-3000. $79.95 for Windows and $69.95 for DOS).
The oxford English dictionary, second edition(Oxford University Press Electronic Publishing, 800-334-4249 or 212-679-7500, $895). It requires the use of Windows and puts just under 2MB on your hard drive.
Compton's Interactive Encyclopedia (Compton's New Media, 619-929-2500, $395)The info pilot provides a matrix of rich articles. The windows version of Compton takes 4MB of hard disc space.
Microsoft Encarta Multi Media Encyclopedia1994 edition. (Microsoft, 800-559-5577, $395)created specifically for multi media ,you get more sound,and more photos than other competing media.
The New Grolier multimedia Encyclopedia release 6. The new version includes the usual package. There are also two new products -knowledge maps and multimedia essays.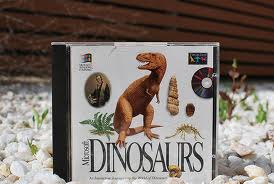 Microsoft Dinosaurs. It has 256 color paintings in every window and is simple enough such that even kids with a short attention span don't drift.
The Concise Columbia Encyclopedia which is in a single volume and tries to impart basic information on thousands of subjects.
And lastly the Hammond Atlas which is a collection of maps, atlases and flag. It also has links to more detailed information in the encyclopedia and almanac.
See Also...