PC Building And Repairs How blog
How blog is my mini- journal about custom build computers and repairing guide. Custom Build Computers blog; Lets you know whenever any new web pages appears on custom build computers telling you about the new find PC upgrades, new graphics cards, motherboards.
Keeps you up-to-date with other postings or the latest news about PC technology like the latest touch screen pc-monitors! We Informs you about How to custom build your own PC, PC Information, PC Repairing and, new articles, tips and tricks and any other information that I think might be of interest to you.
To subscribe to custom-build-Computers Blog (no e-mail is necessary), right-click on the orange RSS button (see buttons at the bottom of the navigation bar - left) and then paste the URL into your RSS reader.
Or, click on the Google, My Yahoo!, My MSN or Bloglines button if you keep a personalized home page. If you are not sure what RSS and blogging is all about, click on the question sign (?) located to the left of the RSS button to read: 'What is RSS?'
Once you start, you will be amazed at what RSS can do! Have fun! To find out the best of this blog more please read on. Whichever way you look at it, the PC Building and repairs computers blog come in handy for users who want to get the latest information about the developments made by computers and for this reason, it is highly recommendable to be dependant on it.
Custom Build Computers Are Just The Best Shot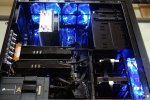 There can be many reasons why you need custom build computers. One of the very obvious reasons is that these types of computers are designed to meet your specific requirements under all circumstances.
Continue reading "Custom Build Computers Are Just The Best Shot"