Troubleshooting New Computer
Common steps towards troubleshooting new computer. Having a new computer is a great experience to have. However we don't expect it to always be functionable as there will always be times that the computer would not work.
In order to resolve some common computer issues, you need to understand general troubleshooting, familiarize yourself with the operating system you are using and know the right tools to do the troubleshooting.
Guidelines for Troubleshooting New Computer
Whether it could be software or hardware malfunction it is just essential that you know which to use and what to do. The most common problem is when computers would not turn on so here are some tips and ways to do the troubleshooting on your own.
"My computer doesn't show any power light or any sign at all."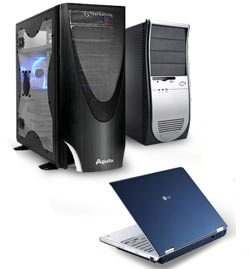 Check out how the power source voltage button is set properly. If the input voltage for that power source doesn't go with the right setting for your location, your personal machine might not turn on at all.
Look for disconnected pc power electrical wires. A unfastened or unplugged power wire is probably the main reason why a personal computer will not switch on. Change the computer's power wire. This is the power wire that extends between your personal computer case and the power supply.
"My computer turns on and then off, vice versa."
Search for reasons of electric shorts within your personal computer. While this is usually the reason behind the situation when the personal computer powers on for a minute or two then again powers off fully.
Try out your power source. Even though your pc switched on for a couple of minutes does not imply that the power source unit in your pc is functional. Reseat all the things inside your pc. Reseating will probably improve all the cable connections in your pc which might have twisted unfastened with time.
"My computer turns on but displays nothing on the screen."
Prior to starting more complex and cumbersome trouble shooting along with the rest of your personal computer, ensure your computer monitor is functional. Check out that your computer has totally powered off and on. Put simply, check your pc has fully reset - be sure that it's starting from a fully turned off condition.
"My computer is showing the blue screen of death."
A Blue Screen of Death is generally hardware or drive related issue. Most BSODs display a STOP program code which you can use to aid and find out the main reason for the Blue Screen of Death. The most crucial Blue Screen of Death trouble shooting move you may consider is to determine whatever you just performed.
Have you installed a new software or a bit of equipment, update a pc driver, downloaded an update, among others.? If you do, there is a high possibility that the alteration you've made triggered the BSOD.
These are just some of the common problems along with common steps towards troubleshooting new computer. If you would like to work on your own there are many troubleshooting sites to help you but if you want ease, you can call your nearest pc technician to do the job for you.
See Also...