Tablet PC Software Guide
The number of people looking for the best tablet PC software guide has been on the increase over the recent past. This can be attributed to the current increase in the popularity of tablets. Using tablets is easy and they are also extremely portable.
They use software that allows interfaces designed the touch screen. This is very different from the operating system used by PCs. PC relies on mouse and keyboard for their operation. However, each tablet may have a different feel depending on their software. As such, it is important to know more about a tablet and its software before buying it.
Tablet PC Software Guide - The operating system
The best tablet PC software guide should include the operating system as a major consideration. The operating system is the basis of everything including application support, features and interface gestures. Generally, the operating system of a tablet ties you to a particular line of applications. This is also the case when you choose Mac or Windows based PC.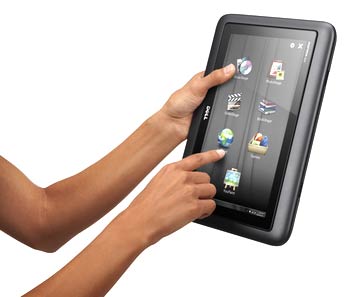 However, this allows for more flexibility than the case with current tablets. Currently, there are four main operating systems that you are likely to find in tablet PCs. These are the Apple iOS, Google Android, Blackberry OS and Microsoft Windows 7.
Therefore, know more about the operating system of a tablet before buying it. Make sure that it allows you the flexibility you need from your device.
Software Stores
Software stores enable consumers to acquire applications and install them in their tablets with ease. It is important that you consider the trend of applications in these stores so that you can experience the most from your tablet PC. All the software has got its own specifications and implications on a tablet PC.
Majority of the applications you will find in the stores are developed by the companies that develop the operating system used by a tablet. However, there may be some exemptions. Devices that are based on Android operating system may be able to choose from a multiple of applications.
This is because Google operates a standard market for Android devices. In addition, there are third parties application stores that are run by manufacturers of hardware. This has increased competition in the software market.
Nevertheless, this has also raised security concern especially when not sure about who is running a store. Blackberry, Windows, Android and Amazon are among the companies that have application stores from which you can get software for your tablet PC.
Quality and Availability of Applications
A good tablet PC software guide should also talk about quality and availability of applications. Although there are many software stores today, not all of them have legitimate applications. On the other hand, developers are now able to release their software to tablet owners with ease.
This has made a large number of applications available to device owners on different platforms. With the excitement of accessing new applications with ease in the current market, it is possible to be lured into purchasing low quality applications.
Therefore, it is always important to take time carrying out some research to ensure that you get quality applications. One of the ways of ensuring that you purchase quality applications is by reading reviews and ratings.
Many consumers usually write review after buying applications from an online store. Experts also rate stores based on the quality of applications they offer for sale and what consumers say about them.
Therefore, look for an online store that has the highest number of positive reviews. Also consider an app store with the highest rating. Nevertheless, with a good tablet PC software guide you will get an application that suits your device properly.
See Also...