What You Need to Know when Fitting the Acrylic Computer Case
Acrylic computer case is an innovative product from Sunbeamtech. It is a transparent product that enables the user to show off their unique modifications.
This case comes with simple customization and CCFL light setups for LED funs. Using this case fans are able to show everything they want off like they never do with other cases.
This product has been in the market for quit sometime now. Many people have used it and written positive reviews about it. According to many case fans, this product helps them to keep things cool and nice. It also improves the appearance of their chases.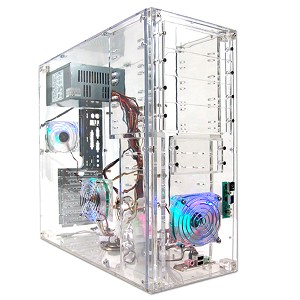 Acrylic computer case comes with a light blue color and great edges. This has made it very popular among many computer owners who always mind about the way they display their chases.
This case is packaged in an innovative manner. It comes in different pieces of the acrylic packed in a box that is wrapped professionally. These are easy to assemble after removing them from the box.
Within a few minutes, you will have the system fully installed in the case. The good thing about the acrylic computer case is that it comes with instructions. These instructions play a very helpful role when assembling the system. Nevertheless, some people can assemble it even without instructions.
Mounting the hard drives implies that you have to screw acrylic spacers before screwing the frame of the optical frame and the hard drive.
However the clear western digital window has a great look when mounted on the motherboard. It is an innovative product that any PC owner would like to have.
Nevertheless, it is imperative that you have reliable information on how to assemble and use your case. This will enable you to get the most from their investment in acrylic computer case.
See Also...