Fitting PC RAM
Fitting PC RAM easy steps guide. A personal computer is one item that you should not miss in a house. This is attributed to the many functions that it has. However, when using this equipment, you may find that it is slow especially when working on many programs or large files at the same time. In case you experience this problem, you can be able to improve its functionality by installing another RAM (Random Access Memory).
There are many occasions which can prompt fitting this RAM in your PC. If your machine is slow or you want to replace the existing one, you can still accomplish this. Before you start on the fitting process, you have to be aware of the tools that you need for this job. This therefore means that you need to be sure of the type of RAM that you have to fit in your PC.
Fitting PC RAM on the MotherBoard when Building a PC
In order to determine the type of RAM, you can look at the specifications of the existing RAM in case you want to have an extra one, or you can look in the manual book so as to know the type of RAM that suits your PC.
With your tools ready, you have to shut down the PC. This is because when you leave it running, there is a possibility that when you open the case of the CPU, you may experience an electric shock.
To avoid this accident, you need to shut it down so as to work effectively. You however need to leave it suppressed in the surge. In case you have any peripheral devices like monitor, you have to disconnect them from the computer. You will also have to remove cover of your computer so as to access the interior.
Fitting PC RAM Process
With professional grounding equipment such as anti-static wristband, remove internal components or cards so as to get unobstructed access to sockets holding your RAM. When picking the single in-line memory Module SIMM or Dual in-line memory module (DIMM), you have to ensure that you pick them at the ends so as not to touch the chips or pins.
When adding these SIMM, you have to look for the notched end and also turn it so as to be parallel with the existing card. You will then have to fit it in the socket at an angle of 30 degree. In the event of adding DIMM, you have to fit it straight so as to lie perpendicularly to the motherboard.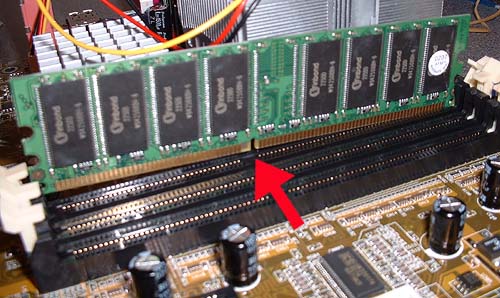 With the use of light pressure, you need to keep SIMM from backing up when you rotate the module in the event of upright position. You also need to establish that all holes on SIMM sides fit into the holders.
You will then have to feel or hear the retaining clip lock in the socket so as to lock the side clips of the DIMM. To ensure that the module is locked, you have to try pulling it. In case it is intact, then it is well locked. Replace internal components of your computer, reconnect the monitor, mouse and keyboard and turn it on.
See Also...